Web Application Development
At Mitej, We focus on handcrafted custom made mobile apps developmet for all platforms – iPhone, iPad, Android, iOS, Blackberry and others. Our goal is to create an amazing user experience with a solid app brand & personality, which can succeed on the marketplace, coupled with powerful, eye-catching app marketing.
Enterprise Mobility has been successfully providing unmatched outsourcing solutions in several mobile enterprise applications and consumer applications for iPhone/iPod and iPad users. Enterprise Mobility iPhone team is specialized in providing rich mobile applications using the iPhone SDK. We have expert programmers, who have continuously given successful results in Application Development, iPhone Mobile Application, and iPhone Programming. We have stronghold in making third party iPhone applications.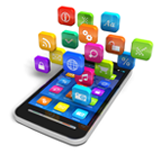 Mobile Development Categories:
Utility applications
Multimedia Applications
Mobile Social Networking
Entertainment Application
Office/Business applications
For further queries contact us and tell your needs, we will find out the best solution for your software needs.