Software Development
Welcome to MiTej, Professional Software Development Company based at USA, U.K. There is no end to web development companies in the market; globally and in India, but what matters is the ultimate result. Customer satisfaction is our motto and we strive to provide the best solution to our clients. Very few Indian companies could reach the zenith that we have reached today with a strong database of clientele.
MiTej is a custom software development company and offer a complete cycle of customized software programming services that include offshore web development, product ideas, enhancement and support.
Our Software Development strategy fixed using Microsoft's .net compact framework, WPF, WCF, MVC architecture, ADO.Net/XML, XSL, AJAX, Silverlight, SQL Server 2005 / 2008 and much more.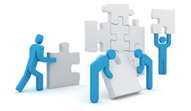 Why Software Development ?
Quality circles cost effective.
Improve leadership and management skills.
Creates an atmosphere conscious of quality.
Increases employee morale and sense of goal.
For further queriescontact us and tell your needs, we will find out the best solution for your software needs.