Offshore E-Commerce Software Development
At Mitej, eCommerce development enable retailers to manage business transaction smoothly. We are specialist in offering customized offshore eCommerce software that is designed to address the shortcomings and complexity of the obsolete ecommerce systems. The streamline specialist tailored business processes, build relationships, and absorb customers in a highly interactive manner at Mitej, Pune, India.
Our eCommerence specialist business applications help you reach your target customers across multiple channels, increase sales, and drive customer satisfaction.
Additionally, our eCommerce software development comprises of built-in web marketing functionality that will assist you drive new traffic to your portal, enhance click through ratio, increase conversion rates, attract new customers, and retain existing customers managing from Pune, India.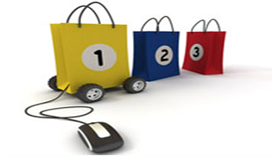 Manage Warehouses
Manage Inventory
Receive Order Placed Online Or From Amazon/Ebay/jet
Allocate Order within system
Prepare Order within system
Print Orders / Packing Slips
Pull Orders
Pack Orders for Shipping (If not FBA)
Order Returns Management
Backorders Management
Additional Services for E-Commerce:
Amazon marketplace APIs integrations to download Orders, update Shipping, Inventory, Pricing info back to amazon.
Other similar marketplace integrations like EBay, Jet, NewEgg etc.
Custom application & database design and development to automate the above processes and to integrate the above processes to your existing database if any.
Products/Catalog listing services on Amazon. Adding Keywords, Product description, Images to products before listing.
Amazon Product advertising , Sponsered Ads, Header Ads, PPC and monitoring the sales vs spendings.
Graphics services to edit/enhance product images.
Digital marketing like Google Ads, website optimisaztion etc.
Amazon MWS is specialist in an Integrated Web Service API(Application Programming Interface) that assists Amazon sellers to spread their business by immense MWS auction automation.
Amazon MWS has also announced Amazon MWS API subscription section so the user can subscribe to receive notifications of related business without need to tally Amazon MWA API services.
Amazon MWS API Sections is specialist for procedures to access Amazon's competence over easy web service API.
For further queries contact us and tell your needs, we will find out the best solution for your software needs.