Offshore E-Commerce Software Development
At Mitej, eCommerce development enable retailers to manage business transaction smoothly. We are specialist in offering customized offshore eCommerce software that is designed to address the shortcomings and complexity of the obsolete ecommerce systems. The streamline specialist tailored business processes, build relationships, and absorb customers in a highly interactive manner at Mitej, Pune, India.
Our eCommerence specialist business applications help you reach your target customers across multiple channels, increase sales, and drive customer satisfaction.
Additionally, our eCommerce software development comprises of built-in web marketing functionality that will assist you drive new traffic to your portal, enhance click through ratio, increase conversion rates, attract new customers, and retain existing customers managing from Pune, India.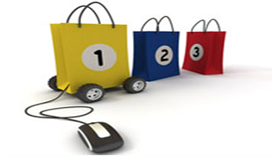 We provide in eCommerce Development:
Web application development services
Comprehensive Product Testing services
eCommerce website development services
Customized eCommerce apps and software services
Amazon MWS(Marketplace Web Service) API
Amazon MWS is specialist in an Integrated Web Service API(Application Programming Interface) that assists Amazon sellers to spread their business by immense MWS auction automation.
Amazon MWS has also announced Amazon MWS API subscription section so the user can subscribe to receive notifications of related business without need to tally Amazon MWA API services.
Amazon MWS API Sections is specialist for procedures to access Amazon's competence over easy web service API.
For further queries contact us and tell your needs, we will find out the best solution for your software needs.